Samsung's much-awaited release is finally out. Yes, we indeed mean to mention the latest release that is the Galaxy Note 20 Ultra. Featuring an amazing set of specifications, the device had managed to create much hype even before its release.
The 6.9 inches of most vivid, brightest, and dynamic AMOLED 2X edge Infinity-O display with 120Hz of smooth refresh rate, delivering an incredibly fast touch response protected by Corning Gorilla Glass Victus, the toughest glass ever on a smartphone, we don't think there's more a techie can expect from a smartphone.
Now, anyone having access to these display specifications would clearly want to cherish them for long. And using a screen protector is one way you can do so. But, how to determine which screen protector is the best for your Samsung Galaxy Note 20 Ultra smartphone? Here's how you can!
In this article, we'll share some tips on choosing the best screen protector and a list of some of our favorites.
Selecting the best screen and camera lens protector for your Galaxy Note 20 Ultra
Making a decision can get tough with a multitude of options available in the market. Thankfully, you have this list of some things to consider when looking for a screen and camera lens protectors.
Material
Screen protectors come in a thin plastic glass, tempered glass, and hard plastic glass material. If you are someone who drops their phone a little too much, it is wise to go with the tempered or the hard plastic one. And if you just want to protect your screen from scratches or getting dirty, prefer getting the thin plastic one.
Size
Since the Galaxy Note Series has been introduced with three variants, the Note 20, Note 20+, and the Note 20 Ultra itself, make sure you check the glass dimensions, so they actually fit on your device.
Design
There may be some protectors that do not match the curved edges of your Note Ultra device or may not be exactly the same design as the smartphone. Take your time to check if the protector glass doesn't interfere with the camera punch hole and the curved edge design. Select the one which matches the exact dimensions so you won't have to replace it on a frequent basis.
Build Quality
There are instances when users buy cheap protectors and suffer damage later on when they drop their phones. If you don't want to spend extra money afterward, make sure you invest in a protector which is great in terms of the build quality. One way to determine this is by reading the reviews online or asking users who are already using the product about the same.
A look at some worthy of your investment
Though there is a multitude of best screen protectors available in the market, here is the list of some which we personally would love to consider.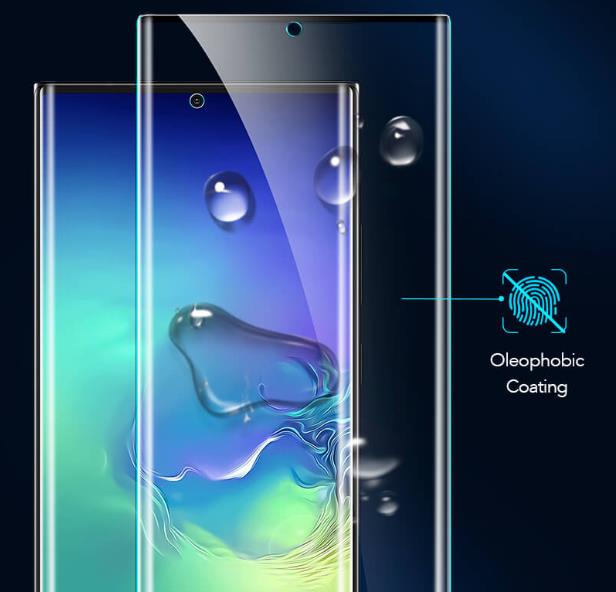 Number two on our best screen protectors list is this full coverage tempered glass screen protector from ESR Gear. The reason why it is at number two on our list is the strength. This tempered glass screen protector can withstand up to 5kgs of pressure, and that's a lot for a thing as delicate as a screen glass. The design part is also very compatible with the phone, making it fit well over the curved edges of the smartphone. The product also supports fingerprint unlocking which means it doesn't interfere with the basic smartphone functionalities and it is certainly a plus point.

The protector glass can be installed easily using the cleaning kit and installation guide which comes with the packaging so you don't have to step out of your home to visit a professional mobile service executive.
Pros
Bubble free first-time installation
Oil, scratches and fingerprint resistant
HD clarity
Fits with the curved edge design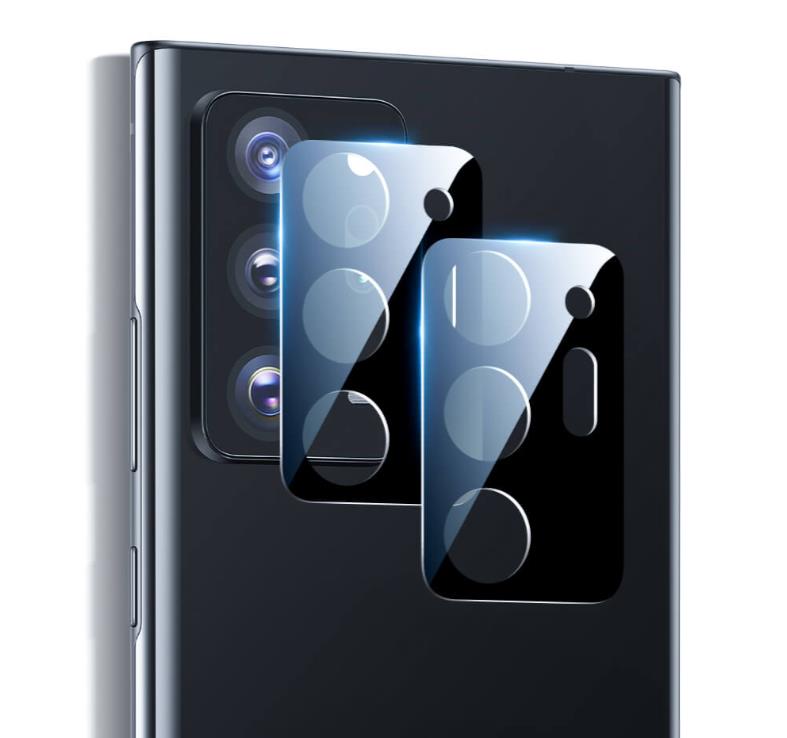 Next on our list is not too big, but also not useless, the rear camera lens screen protector from ESR Gear. The lens screen protector is designed to be a perfect fit for the camera screen on your Samsung Galaxy Note 20 Ultra smartphone. The product comes with two full cleaning kits for an easy bubble-free installation and delivers HD clarity accounting to its 0.15mm of thin glass that doesn't limit your photo-taking abilities.
In smartphones like your Samsung Galaxy Note Ultra, where the camera module comes with a protrusion, it becomes essential to protect it from scratches and this product does the job.

The lens screen protector is highly resistant to scratches and sits perfectly on your camera lens module.
Pros
Scratch resistant
Ultra HD clarity
Fingerprint resistant
Bubble free installation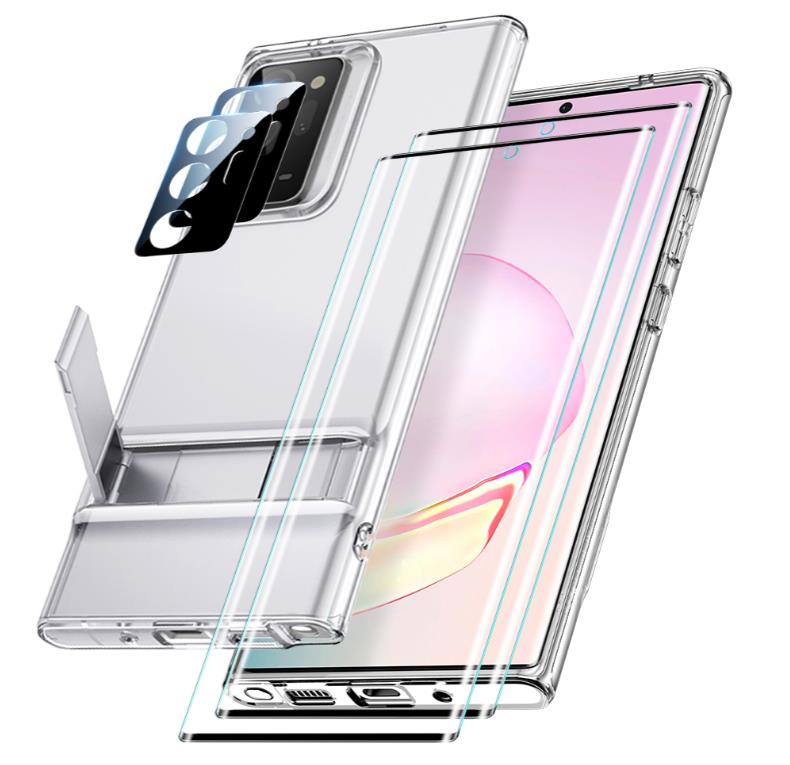 The Galaxy Note 20 Ultra Kickstand Protection Bundle from ESR Gear is the absolute package for anyone looking to protect their device. The bundle comes with two screen protectors, two rear-camera lens protectors, and a strong metal smartphone case with a support that can be used to incline the phone at angles up to 60 degrees. The metal case is available in two color options, one being transparent and the other with shades of grey. The screen protectors fit the size well and do not interfere with the on-screen fingerprint sensor support.

The product is on the top of our list as it contains solutions to protect the complete device while ensuring that they do not interfere with the device functionality.
Pros
3 times more protective than hard glass
Bubble free first-time installation
Oil, scratches and fingerprint resistant
Shatter resistant
HD clarity
Fits with the curved edge design
Conclusion
Using a screen protector for your smartphone becomes necessary when you are looking to keep it new for a long time. Make sure you protect your Samsung Galaxy Note 20 Ultra with the best screen and camera lens protectors listed above.
We hope this article helps you in making your choice. We'll keep updating our blog with more of such useful information as we gather it.