With government institutions, marketing agencies, and nosy hackers preying on your everyday surfing behavior, it's paramount that you get a tool that hides your online identity. Virtual Private Networks (VPN) are considered as the safest options given their ability to shield your identity.
The best part? You don't have to pay for this essential service. As such, you'll be able to access blocked content, circumnavigate regional restrictions, and so much more. In this article, we share with you the 10 best free VPN for iOS in 2020.
Let's dive in!
Want all-round protection? Get yourself the HotspotShield VPN. Not only does it protect you from cyber threats but it also blocks spam robocalls. Besides, you can also store all your passwords in it mitigating the risk of hackers accessing your online accounts. This fastest VPN has servers across more than 70 countries hence providing top-grade security.
You can subscribe to monthly ($12.99), six-month ($8.99), or yearly ($5.99) plan. You can also test it during the 7-day free trial. So if you want to guard your digital footprints, have your passwords securely saved, and ward off robocalls, then download this app.
TunnelBear is one of the most popular VPN on iOS devices. It is user-friendly and allows you to browse the internet securely on public WiFi. The free plan provides you 500MB browsing data per month, which is ideal for the average internet user. It wards of annoying ads and keeps you safe from hackers giving you peaceful surfing experience.
With this app, you don't need to logging. This ensures that your data is secure from third-party apps and thanks to its strong encryption, nobody can monitor your online behavior. It has servers in more than 22 countries providing you secure and fast online browsing.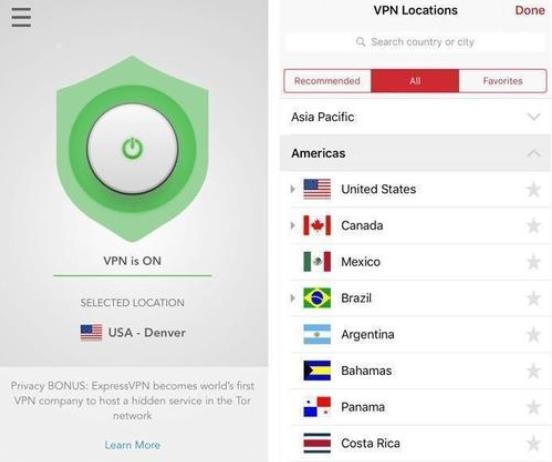 This VPN hides your IP address allowing you to safely browse the internet anonymously. You will enjoy fast internet speed and unmatched encryption keeping you safe from hackers and advertisers. Not only does it protect your real-time browsing data, but it also downloads and online history data.
With SurfEasy you can use public WiFi peacefully as it protects your data. The premium plan will cost you $1.99 per month. You can choose between numerous locations depending on your current position. It has a user-friendly interface and is lightweight enough to run your iPhone and iPad.
Although fairly new in the market, it comes with generous bandwidth of up to 10GB per month, which is ideal compared to TunnelBear 500MB. You can safeguard numerous Apple devices such as iMac, iPhone, and iPad free. Its no-log policy ensures that no third-party app can access your data.
You can choose between the current 10 servers in UK, Canada, and more. With it, you are assured of unlimited bandwidth for your everyday surfing. If you are after high monthly bandwidth, then opt for this free VPN.
Betternet comes in a minimalistic design ideal for all users.  It has a high rating of 4.6 with more than 100K users around the globe. This alone proves how efficient this VPN app is. The free version comes with ads that you can do away with using the premium plan. You can choose between monthly ($11.99), six months ($47.99), and annual ($71.99) plan.
This VPN auto-detects your location and connects you to the nearest server enabling you to have a fast secure internet speed. Whether you are connected to a public or cellular network, it will encrypt your data and protect you from hackers and advertisers.
With a 4.7 rating and more than 9K users, Speedify protects your iOS device whether on cellular or WiFi networks. Lauded as the fastest VPN by most users, it comprises of a Channel Bonding feature that connects you to numerous internet connections. As such, you'll enjoy fast and secure browsing.
The no-log policy also ensures that all your online activity remains a secret. The robust encryption ensures that traffic from all apps remains anonymous and secure; from chatting on WhatsApp to telling stories on Instagram. If you want more and ads-free services, you can opt for the monthly ($9.99) or yearly ($71.99) plan.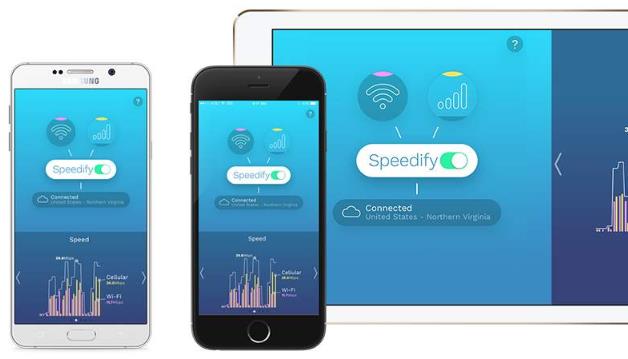 If you want unlimited browsing data, then ProtonVPN is the perfect choice for you. The app allows you to use unlimited data-free. Used by millions, the VPN does not track, store, or sell personal data to other parties. Not only do regular internet users use it, but also activists, journalist, whistleblowers and more.
So if you are privacy-centric, this can be the right VPN for you. It's open-source, DNS leak-proof, and features one of the fastest internet connectivity speeds in the market. It has 577 servers across 44 locations. And if you have Tor Browser on your iOS device, you can rest assured of full protection from trackers and hackers.
NordVPN is one of the most popular VPN not only on iOS but also on Windows and Android devices. It is user-friendly, highly compatible with numerous devices, and one of the most secure VPNs in the market. Through its encryption technology, it protects you from malicious third parties, online surveillance, advertisers, and hackers.
You'll enjoy unlimited bandwidth and with one account, you can protect six devices simultaneously. It has more than 5300 servers globally ensuring fast and secure internet connectivity. Experience all features during the 7-day trial period.
Coming in a free and monthly subscription plan, this VPN is a favorite for more than 10 million internet users. With a 4.5 rating on the Apple Store, it has 60+ locations with servers for fast, reliable, and secure internet connection.
It allows you to share an anonymous IP address significantly protecting you from online trackers and surveillance. The monthly subscription plan will cost you anywhere from $9.99. Why hide.me? You are guaranteed top-notch anonymity since the IP addressed is shared between devices.
Lastly, we have the free VPN Proxy Master that has more than 100K active users and a star rating of 4.7 on the Apple Store. It allows you to access blocked content and ensures your online activity remains anonymous.
Whether you are using a WiFi, 3G, or LTE cellular network, this VPN will keep you safe from nosy users and hackers. You can opt for the free plan, weekly ($9.99), monthly ($11.99), or yearly ($69.99) plan.
Final say
With these free VPN apps, you can browse the internet anonymously without the worry of surveillance from advertisers and government authorities.
Now, we'd like to hear from you. Which VPN works for you? What do you consider before downloading one? Let us know in the comment section.