Without a doubt, a phone case is one of the most important accessories you'll buy for your Galaxy Note 20/20 Ultra. While some people take their smartphone for granted and leave it unprotected, most people know what it takes to keep their phone looking pristine. To help you keep your phone as good as new, we've compiled some of the best cases for the Galaxy Note 20/Note 20 Ultra.
Why Should You Use a Phone Case?
Day-to-Day Protection
The most obvious reason to get a phone case is to protect your device's exterior. Smartphones have gotten pretty expensive, as has the cost of repairing them. A phone case will help save you time and money by keeping it safe from scratches and dings.
Personalizing Your Phone
Other than variations in color, your new Galaxy Note 20 is going to look like every other Galaxy Note 20 out there. With the huge variety in phone case styles out there, getting a case can give your phone a personal touch that helps it stand out in a crowd. If you want to take it a step further, you can also get a clear case, which you can customize with your own photos.
Improving Your Phone's Grip
Almost all modern smartphones are made of a combination of metal and glass. While aesthetically pleasing, both glass and metal are very slippery materials, which makes not having a case even more dangerous than you'd think. Whether it's made of polymer, polycarbonate, or artificial leather, the right phone case can make you much less likely to drop you phone in the first place.
Added Functionality
Some phone cases are more than just cases. For example, the addition of a folio-style cover or a kickstand in the back will allow you to stand your phone up vertically, horizontally, or both. If you use your phone for watching YouTube videos or video calling people, the addition of something like a kickstand can be a huge help.
Best Cases for the Galaxy Note 20/20 Ultra (2020)
In addition to its pure glass back, this Galaxy Note 20 case has a flexible polymer frame gives you a comfortable and secure grip. The frame also comes equipped with reinforced Air-Guard corners that offer enhanced drop protection.. Most importantly, the ECHO's scratch-resistant tempered-glass back makes it safe to keep your phone and keys in the same purse or pocket.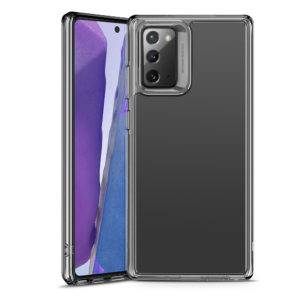 Key Features:
Soft & non-slip frame
Shock-resistant
Tough tempered-glass back
Product links:
Galaxy Note 20: https://www.esrgear.com/products/galaxy-note-20-echo-tempered-glass-hard-case/
Galaxy Note 20 Ultra: https://www.esrgear.com/products/galaxy-note-20-ultra-echo-tempered-glass-hard-case/
The Metal Kickstand case is a perfect match for the Galaxy Note 20/Ultra, in terms of both fit and function. The stable & adjustable kickstand on the back is the best way to take advantage of your Note's amazing display in both portrait and landscape mode. The case is made with a tough flexible polymer (better protection than hard plastic) with reinforced Air-Guard corners for extra drop protection.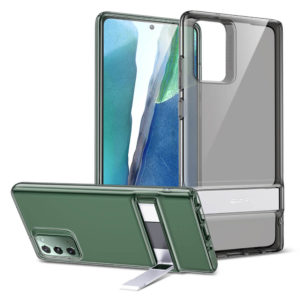 Key Features:
Strong & flexible
Screen & camera protection
Two-way stand
Product links:
Galaxy Note 20: https://www.esrgear.com/products/galaxy-note-20-metal-kickstand-phone-case-with-stand/
Galaxy Note 20 Ultra: https://www.esrgear.com/products/galaxy-note-20-ultra-metal-kickstand-phone-case-with-stand/
Things to Consider Before Buying a Mobile Phone Case
Durability
One of the critical things to consider when shopping for a new phone cover is how it'll hold up to wear and tear. Different cases have varying degrees of durability, depending on a variety of factors, including material and design. Plastic cases are usually the least durable and metal cases are typically the most resistant to wear and tear. You'll want to invest in a heavy-duty case if your work or hobbies have a lot of potential dangers for your phone, like if you work in construction or are into extreme sports.
Functionality
The primary function of a cell phone case is to shield your device from damage. However, if you are trying to get the most out of your smartphone case, then you may want to search for cases with additional features. Many cell phone cases serve as a wallet to hold your credit cards and cash. Others light up when you get a call or a text. Other cases have an additional battery pack that can charge up your phone.
Design and Style
We all have personal preferences when it comes to fashion and style, so there's no "best" phone case design. For example, if you are a professional, you may spend most of the time in formal wear or business casual. Like clothing & footwear, cell phone cases come in a range of styles and designs suitable for a variety of occasions. They can range from very basic designs (plain cases in monochrome colors) to ones with elaborate custom designs.
Material
Depending on your budget and personal preference, there are a variety of case materials available to you, including plastic, synthetic rubber, carbon fiber, leather, wood, and metal. Although vinyl, carbon fiber, and silicone cases are usually inexpensive, leather, wood, and metal cell phone covers tend to justify their cost with premium features. If you need something elegant and sturdy, then you are better off investing in a leather, wooden, or a metal cover. Nonetheless, if you are looking for something affordable, there are plenty of fantastic plastic or polymer cell phone cases out there.
Conclusion
Either of the cases above will provide excellent protection for your Galaxy Note 20 or Note 20 Ultra. If neither piques your interest, you can also find one more suitable for you by considering the factors above.