Apple has launched the much anticipated iPhone 12 series phones. If you are planning to buy a new iPhone, we suggest you wait and get your hands on the latest offering in the tech world. And when you finally have the best device, don't forget to get the best protection for it.
In this article, we will be discussing the best case covers for iPhone 12/12 mini and 12 Pro in 2020.
But before we get started, we want you to have a look upon why a case cover is important.
Why are case covers important?
Protection Against Drops
Case covers provide extra protection to your devices. You won't like to see your devices shattered after falling from a height. When you have a phone case on, the shock is absorbed by the case material and your phone is saved from damage.
Cases are Versatile
With more and more big-screen phones getting introduced in the market today, there are chances you may use it for a variety of purposes- taking selfies, photography and more.  With cases having thimble support, back-rest and selfie support, cases offer much more than they are intended for.
Provide a better grip
Phones today have everything tech and futuristic but grip. A majority of phones if you notice have plastic or metal cases with shiny finishes which make it hard for users to have a grip. With a case cover, you can hold your phone without having to worry about dropping it accidentally.
Eliminates the problem of fingerprints
That glossy glass or plastic finish is meant to be shown off. When it gets ugly due to fingerprints, it is bound to frustrate you. And, case covers help you eliminate that problem too- preventing your phones from getting ugly.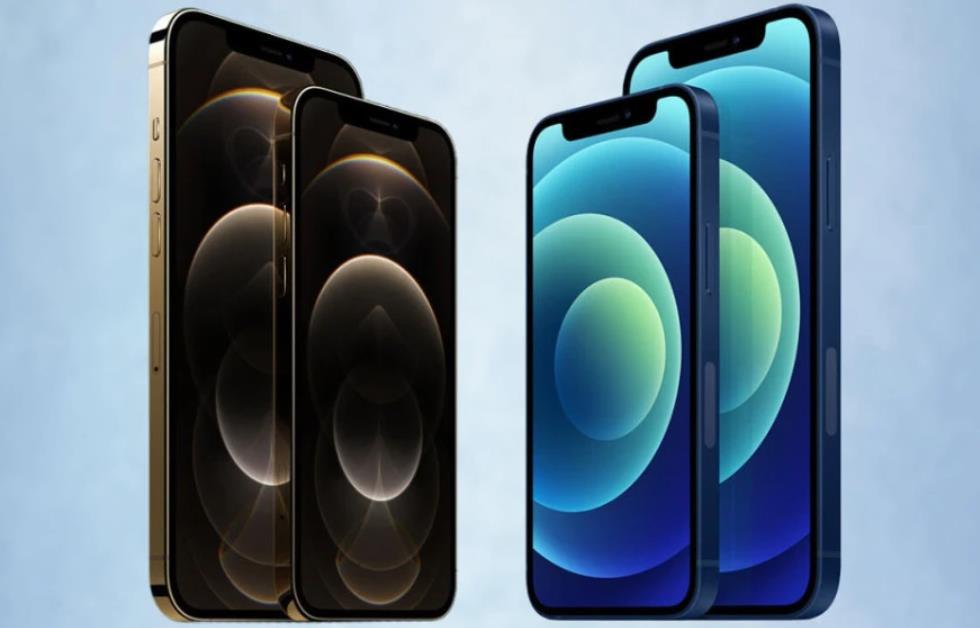 Things to consider
Now, before we tell you our list of super-attractive deals on iPhone 12 case covers, we want to stress upon things that you should consider before buying one.
Compatibility with phone features
The best case cover is the one that does not only provide physical protection but also supports the internal functionalities of your device. Look for cases that don't hamper the wireless charge support, as this is the main feature. You won't like to remove your case cover every time you need to charge it. Secondly, select a device that helps maintain the button functionalities if any.
Dimensions
There's no point in getting a case cover that does not fit on your iPhone. Most case covers do fit but loosen up over time. A majority of these are flexible TPU material built that may also turn yellowish. It is wise to conduct proper analysis and go through the reviews to ensure you are purchasing the right product.
Added protection
If you are able to find a case cover that supports air cushion technology and honey mesh shock absorption technology, it will be a great pick. Case covers with this type of support may be a little costly but they will offer the most in return for your investment.
Best Case Covers for iPhone 12/ 12 mini/ 12 Pro
Deal #1 Metal Kickstand Case for iPhone 12/ 12 mini/ 12 Pro ($18.19)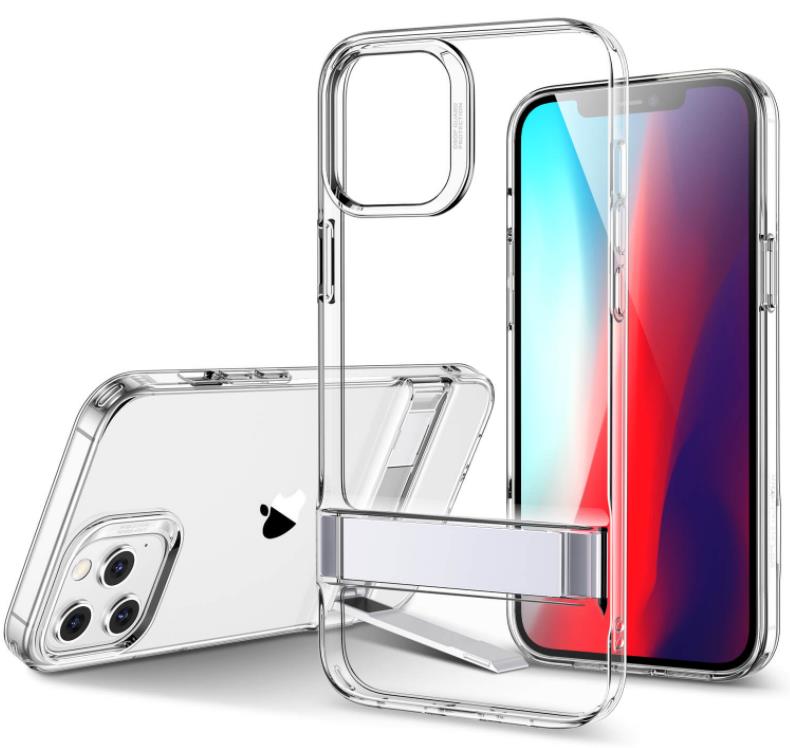 Pros
Two-way stand adjustment
Stability and durable
Raised bezels for added protection
Wireless Charging Compatible
This metal kickstand case from ESR Gear is exclusively manufactured for iPhone 12, iPhone 12 mini, and iPhone 12 Pro. With two color options (transparent and frosted black), it really makes for your eye's apple. The case has a kickstand around the bottom which can be used to make your phone stand both vertically and horizontally. The hinge attached to the kickstand is tested to be used for more than 3000 times.
Also, the raised bezels around the case edge protect the screen and the camera module from developing scratches. And as a treat, the case cover also comes with wireless charging compatibility. The product is easy to install and use. It doesn't feel like getting loose over the course of time and also won't turn yellowish which most clear cases do.
Product Link:
iPhone 12 mini: https://www.esrgear.com/products/iphone-12-metal-kickstand-case/
iPhone 12/12 Pro: https://www.esrgear.com/products/iphone-12-max-12-pro-metal-kickstand-case/
Deal #2 Alliance Tough Full-Body Case for iPhone 12/ 12 mini/ 12 Pro ($23.09)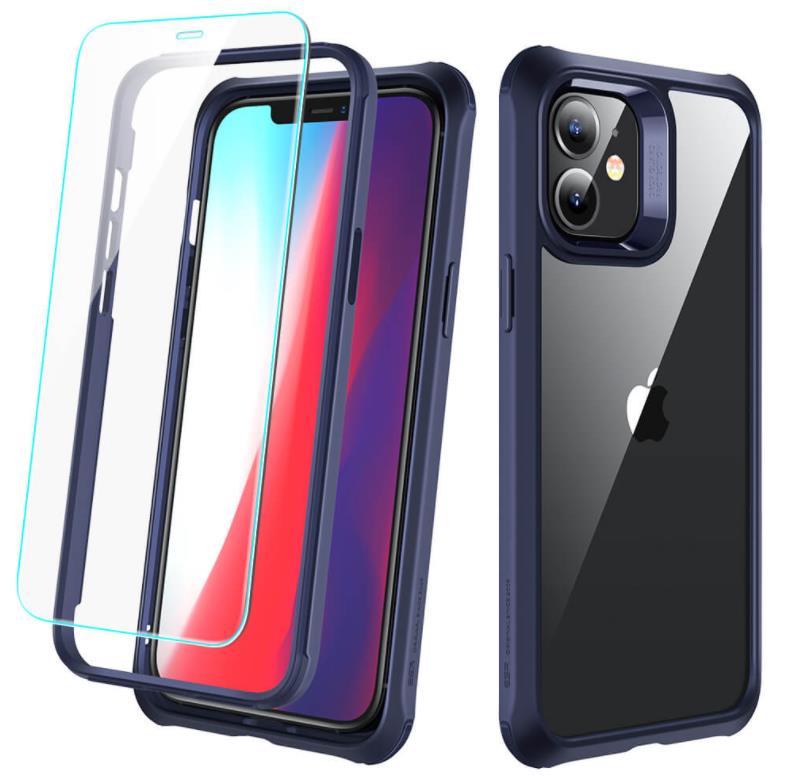 Pros
Heavy-duty protection
Includes Tempered Glass
Reinforced Corners
Wireless Charging Compatible
Raised bezels for added protection
Now, this deal is clearly a go-to for anyone looking to have complete protection for their iPhone. The reason being, it comes with tempered glass, is tough with a sturdy backplate and has a flexible bumper, which all combine to deliver unparalleled protection. If this is not all, the drop-guard camera bezel and raised screen bezel helps keep the scratches at bay from your shiny iPhone. Now, the tempered glass screen protectors also come with great protection capabilities and are ESR's self-manufactured products. You don't have to compromise on the touch screen sensitivity and the front camera functions well too.
The reinforced corners on all four sides prevent the phone from damage by absorbing the shock. Again, this product is compatible with the iPhone's wireless charging feature and doesn't hamper the performance at all. The product is available in three color options namely clear, black and navy blue, which will definitely add to the looks and hold of your iPhone 12 device.
Product Link:
iPhone 12 mini: https://www.esrgear.com/products/iphone-12-alliance-tough-full-body-case/
iPhone 12/12 Pro: https://www.esrgear.com/products/iphone-12-max-12-pro-alliance-tough-full-body-case/
Deal #3 Echo Tempered Glass Hard Case for iPhone 12/ 12 mini/ 12 Pro ($25.99)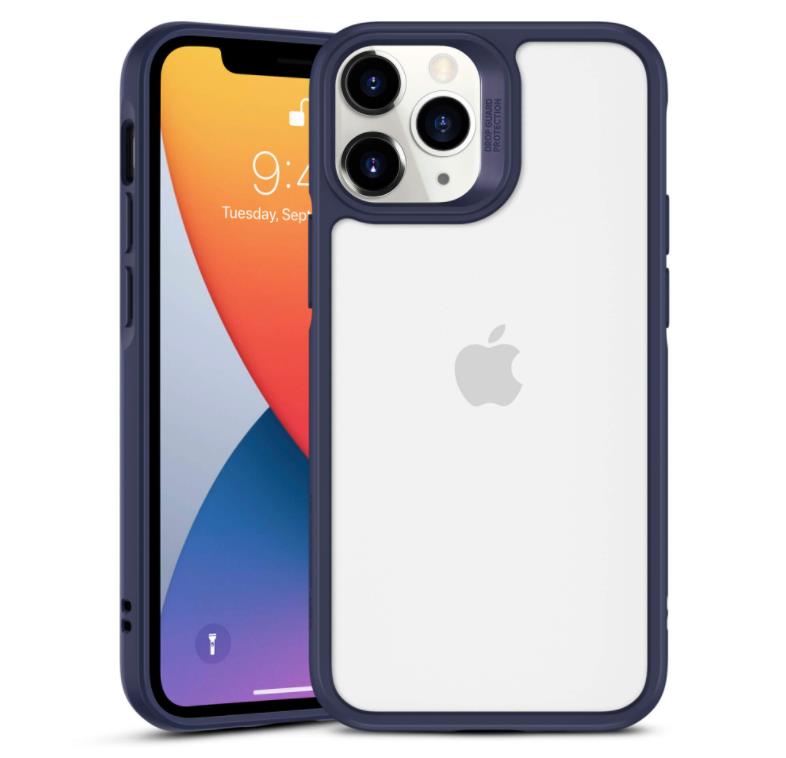 Pros
Tempered Glass back
Air Cushion technology
Easy to grip
If you are on a pursuit to have something beautiful for your phone or want to show off that glossy back with the shiny little Apple logo, this is your product to go for. The product is designed specifically to fit on iPhone 12, iPhone 12 mini, and iPhone 12 Pro, so it comes in two different sizes- one for the iPhone 12 and another for the 12 mini and 12 Pro. The back of the case is manufactured using tempered and scratch-resistant hard glass and then combined with a strong and flexible polymer frame for protection against scratches, dings and scrapes.
The shock-absorbing technology incorporated into this hard case provides accidental drop-protection, as the air cushion around the corners absorb the shock. If you are worried that the clear polymer frame and the glass back will turn yellowish with time, don't worry, that has been taken care of as well, the yellowing resistant property will help. The product comes in three color options namely Navy Blue, Clear, and Frosted Black with a matte touch and finish, so you don't lose on your grip as well.
Product Link:
iPhone 12 mini: https://www.esrgear.com/products/iphone-12-echo-tempered-glass-hard-case/
iPhone 12/12 Pro: https://www.esrgear.com/products/iphone-12-max-12-pro-echo-tempered-glass-hard-case/
The final word
Your phone is your everything. Over the course of time, they have transformed into much more than just a calling or texting device. They are our companions in our soul journeys, a source of information, education, entertainment, and what not? Make sure you protect your companion with the best case covers listed above.