We often find ourselves losing valuables such as car keys and cryptocurrency USB wallets. Unfortunately, tracing and finding them can be a daunting task. This is where Apple's AirTag comes in.
The device allows you to attach it to your items and constantly sends a signal to your iPhone so you can know where they are. As such, if you misplace them, you can easily track them using the Find My app.
In this article, we look at premium cases that you can use on your AirTag to improve longevity. But first, what is an AirTag?
What is AirTag?
AirTag is an Apple device that allows users to track and find their devices using Apple's Find My app. This small device can be attached to your backpack, keys, handbag, and other items and uses the vast Find My network of home gadgets.
It sends a Bluetooth signal to these gadgets so you can know the location of your lost item. It is poised to be available from April 30. AirTag is small, has a minimalistic design and is resistant to dust and dirt. With an IP67 degree of protection, it can withstand water splashes and up to 1 meter of water depth.
Why get an AirTag?
Well, for one, it features end-to-end encryption ensuring that your data stays private. You are also able to find your items quickly since it taps into the network of other Apple gadgets in the area. As you can see this is a gadget that can help you save lots of money can keep track of your item's location.
Now, to further improve its longevity, you need to protect it from damage and weather elements. To do this, you can buy an AirTag case. In this article, we look at six of the best AirTag ring cases in 2021. Let's get started.
Best Apple AirTag Key Ring Cases in 2021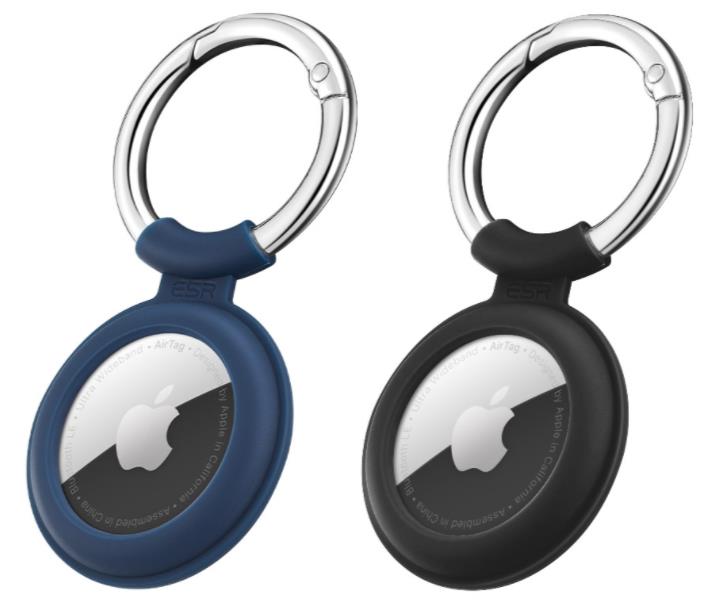 First on the list is this AirTag keychain case from ESR. The company is hailed for producing some of the best accessories in the market. And as expected, this case is no different. It is explicitly designed for the Apple AirTag and comes in a pack of two. The flexible silicone makes ensures that the AirTag is free from snapping out.
Besides, this construction ensures that you attach the AirTag within seconds. The keyring attaches quickly and firmly to your items such as your bag. And since it is not an enclosed case, the Bluetooth signal remains strong. This ensures you can trace your lost item quickly.
With a smooth finish, you can easily wipe off the dirt or dust keeping the gadget clean. You can choose between black/white, black/red, black/blue, and black colors.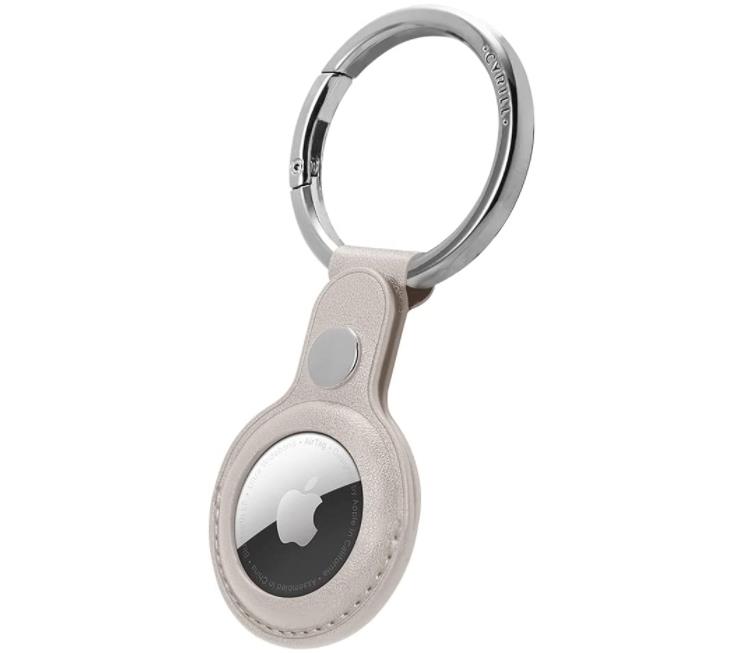 Next on the list is this CYRILL case that is made of premium leather. It comes with a strong keyring that enables you to hook it to your car keys or bag. The mild stone color blends in with your items concealing its presence. As such, should a person steal from you, they won't realize you are tracking them.
Another benefit of using it is that it is made of vegan leather. This means it does not harm the environment. It is also scratch-resistant protecting your device from pesky scratches. Besides, thanks to its minimalistic and compact design, you can carry it with you wherever you go.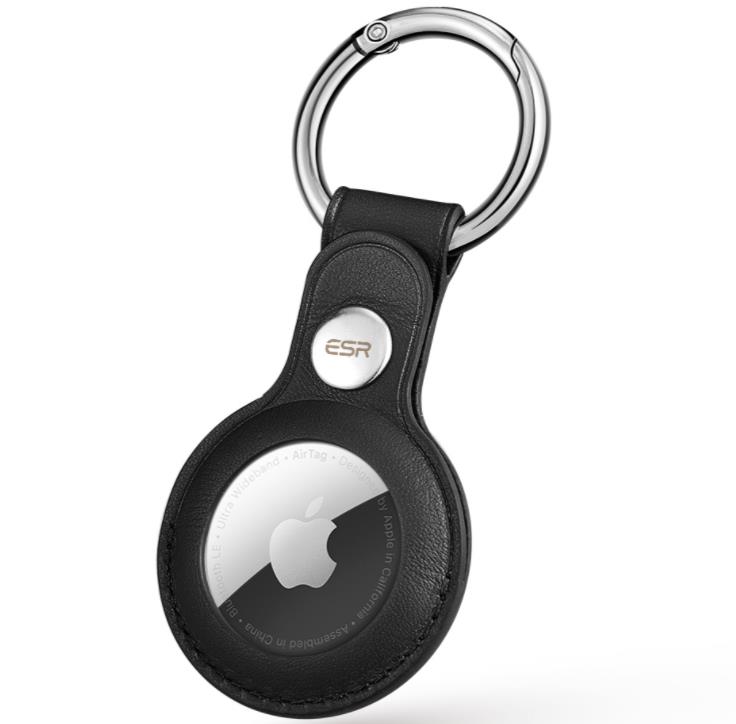 This is yet another quality AirTag keychain case from ESR. This case is made of premium leather giving it a classy and luxurious look. Further, it protects your AirTag from scratches and impacts since it is resistant to scratches. The integrated keyring hooks tightly to your bag or handbag ensuring you don't lose it.
You can get this case in brown, black, or blue colors. Like other premium cases, it features an open design exposing both sides of the AirTag. As such, the signal remains strong connecting with the Find My network around your vicinity. And thanks to the flexible interior, you can easily install and remove the AirTag with ease.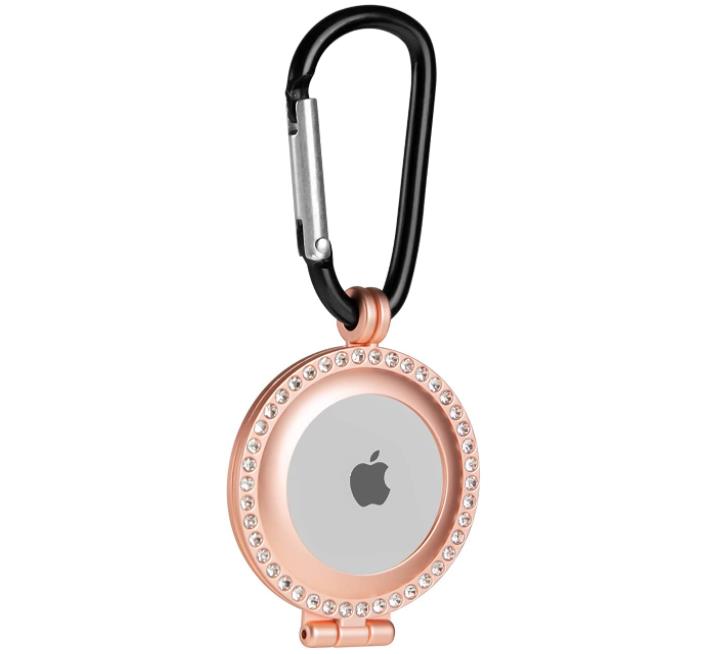 If you are into shinny accessories, you should get this case. It comes with shiny rhinestones that bolster its aesthetic aspect. The case is made of industry-standard stainless steel that is resistant to scratches, dings, impacts, and dirt. The included keyring clips tightly and securely to your bag or any other item.
The best part, it is easy to install and remove without a fuss. The open sides show off the premium design of the AirTag and the Apple logo while ensuring the signal stays strong. And thanks to its minimalistic design, you can carry it around with you.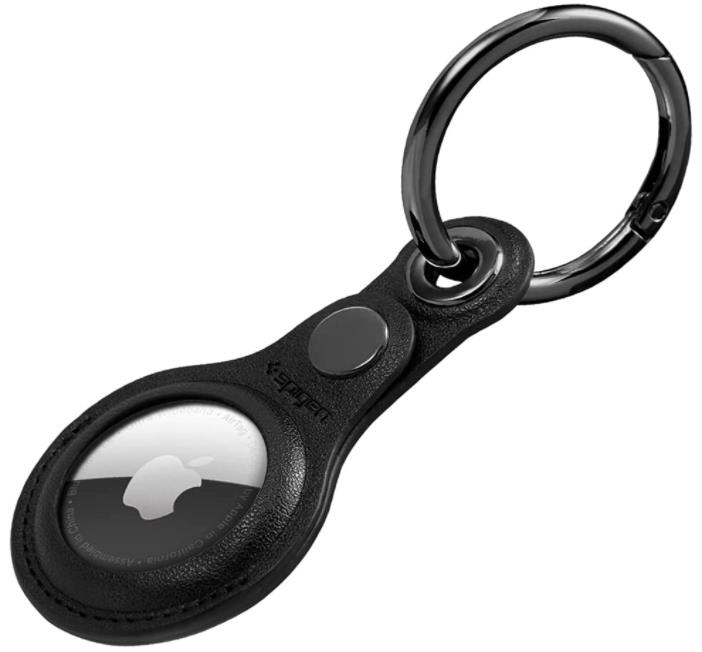 Spigen has been one of the most preferred companies when it comes to gadget accessories such as cases and screen protectors. Now, they bring you a quality keychain ring case for your AirTag. It comes with a metallic keyring that will clip to your car keys or bag with ease. The case is made of premium leather protecting the AirTag from damage and dirt.
The cutouts on both sides show off the design of the AirTag while keeping the Bluetooth signal strong. And thanks to its black color, it can complement most outfits out there. As expected, it is easy to install and remove.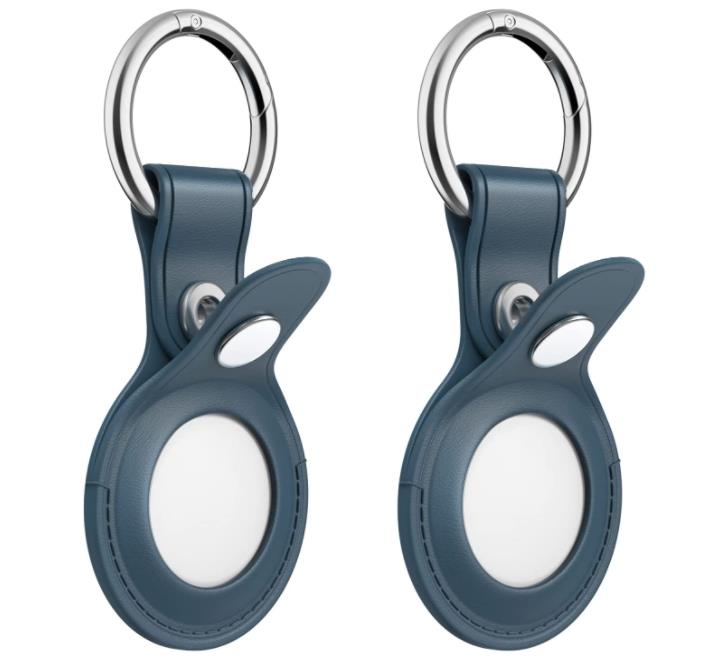 Finally, we have this case from Dadaism. It features a subtle blue color which is pleasing to the eye. It is made of PU leather that is not only easy to clean but offers optimal protection from AirTag damage. The keychain allows you to attach it to any item you want to track.
The case cover features a raised rim that protects the AirTag from damage and impact. This case is durable allowing you to use it for long periods.
Conclusion
As you can see, it is easy to keep your AirTag working for long just by buying it a cover. The cover will protect it from dirt, impacts, scratches, and accidental drops. And with a sturdy keyring, you can clip it to your bag, keys, laptop, and other valuables.