Technology is evolving in all industries from automotive to communication and now to how we charge our laptops, tablets, and phones. No longer do you need to carry different chargers thanks to the GaN USB-C PD chargers.
This relatively new technology uses Gallium Nitride (GaN) semiconductors as opposed to conventional silicon versions. This means you are presented with a smaller, more efficient, and light charger that you can use to charge all your gadgets. In this article, we look at seven of the best in the market, but first, let's highlight why you need one now!
Why you need a GaN charger in 2020 (benefits)
It conducts higher voltages compared to silicon versions. As such, your phone or laptop will charge quickly.
It mitigates the loss of energy through heat allowing ample transfer of energy to your device.
With it, you can charge all USB devices from tablets, smartphones, earphones, etc.
Its design is 50 percent smaller than the standard MacBook chargers.
Well, you can expect more upgrades in the future that will further bolster their efficiency. And as soon as behemoth tech giants like Samsung start including them as accessories for their products, you'll notice an influx in the market. But as of now, here are seven premium options for you.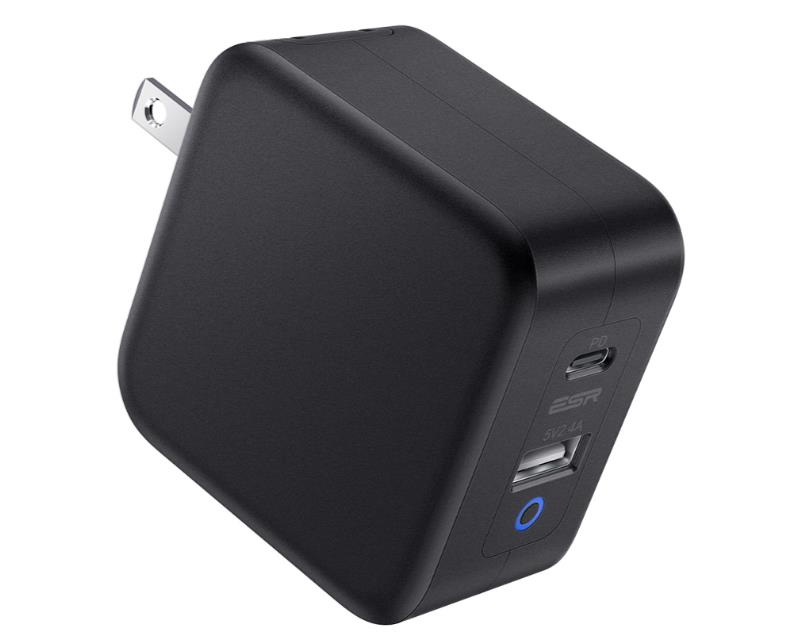 First off is this charger from ESR that is compatible with iPhone, Samsung Galaxy, iPad Pro, and Xiaomi phone lines, among others. The GaN technology lets it charge your phone or laptop efficiently without energy wastage. Besides, it is small in size measuring 45% smaller than a standard 60W phone charger. It also weighs 35% less than your average phone charger. This presents you with a lightweight and portable option to use as you commute.

And its lack of cords saves space in your bag so you can carry other accessories. This charger does not produce heat hence saving energy which results in efficient charging. With intelligent power distribution, it charges all plugged in devices uniformly. And as an added safety feature it comprises overheat and short-circuit protection. No longer will you worry about it blowing up.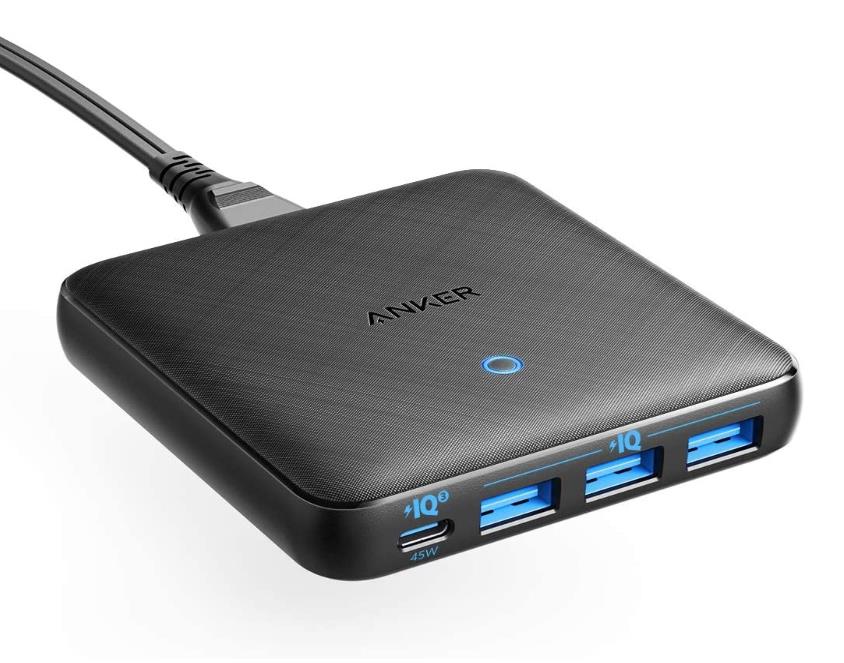 Anker is a company that produces top-grade gadget accessories and this GaN charger is no different. It has four ports so you can charge your laptop, tablet, phone, and any other gadget simultaneously. With a power output of 45W, it charges all the devices quickly and thanks to the smart power distributor, energy are transferred uniformly.
It's slim and lightweight design allows you to carry it in your pocket or bag without extra bulk. Likewise, you can easily plug it in public sockets at airports and enjoy operating your gadget. The 1Q charging technology allows it to charge even non-IQ smartphones quickly. Also, it comes with much-needed safety features such as short-circuit protection for safe operation. So, if you want to charge four devices at the same time, get yourself this premium charger.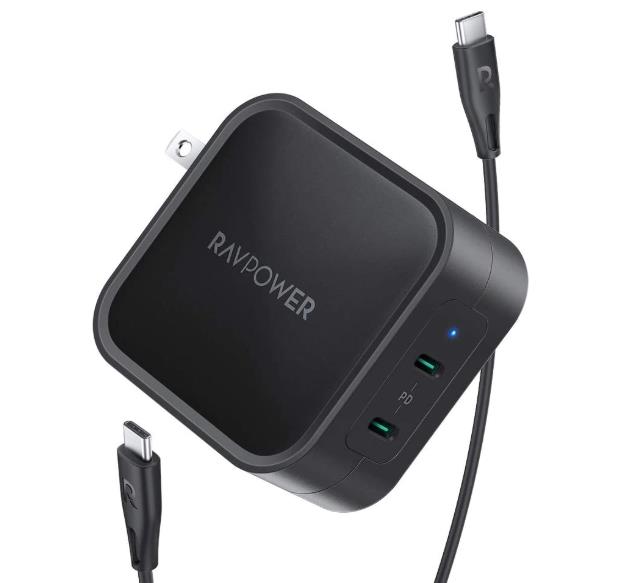 This type has its total power output capped at 90W which charges your laptop within two hours. It is also compatible with laptops with a rating of less or more than 90W. Coming with two USB ports, it allows you to charge two devices simultaneously. The intelligent power supply ensures that all the devices are charged optimally. It is compatible with MacBook, phones, tablets, and other USB devices.
The integrated GaN technology reduces power consumption while maximizing charging efficiency. This means you'll eliminate energy wastage and maintain a healthy laptop or phone battery. The charger is free from overheating, short-circuits, and overvoltage issues ensuring your gadgets are safe in case of a power surge. The ultra-small design can fit in pockets, bags, and you can even carry it in your hand.
Next off is another stellar charger from Anker. It is also compatible with a wide array of USB devices ranging from smartphones, tablets, iPhones, and more. Thanks to the 1Q 3 technology it provides fast charging to all devices. It comes with one USB, as such, you can only charge one device at a time. While the 60W might not charge your MacBook quickly, it will be good for phones and tablets.
You can rest assured of safe charging since it comes with safety features such as overheat, overvoltage, and short-circuit protection. The minimalistic and small design can fit in your pocket so you can carry it wherever you go. Its lightness also eliminates additional bulk. With it, you get cooler operation and high-efficiency charging. And the foldable plug does not scratch your pockets or bag.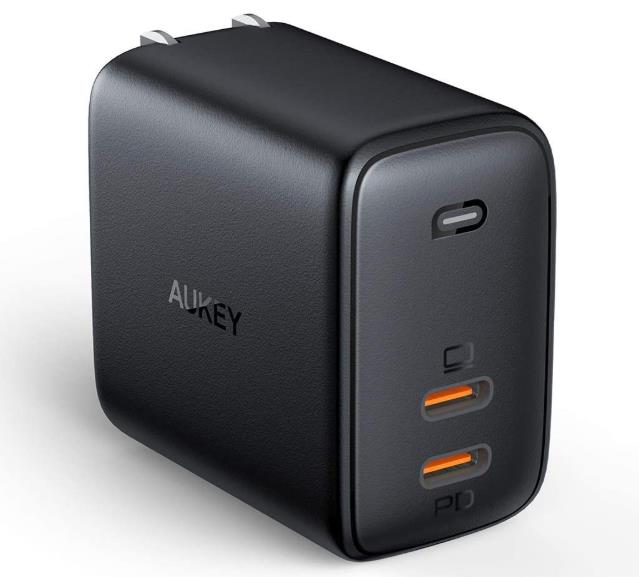 The AUKEY charger is one of the smallest and high-efficiency chargers in the market. It is also lightweight enabling you to carry it around without added bulk. It comes with two fast charging ports so you can charge your phone and laptop simultaneously. Although small in size, it charges faster and efficiently compared to conventional laptop and smartphone chargers. Also, the GaN tech conserves energy while providing smart charging.
When one port is in use it delivers 65W power which charges your laptop quickly. When the two ports are in use it evenly distributes 45W of power uniformly charging your devices. Enjoy fast charging of your iPhone Samsung Galaxy, or iPad thanks to the 3.0 fast charging ports. Like other premium GaN chargers, it comprises of overheat and overcurrent protection for safe use.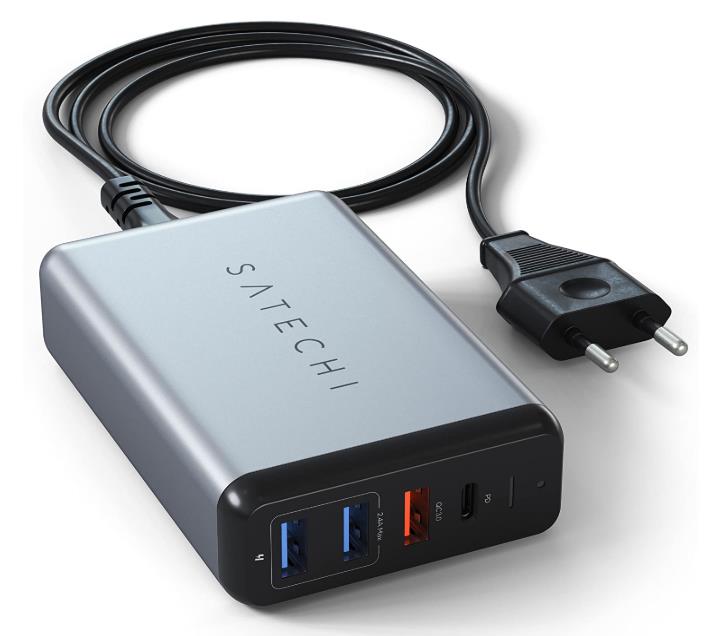 This is also another powerful GaN charger you can opt for. The charger can provide a power of up to 60W ideal for laptops, smartphones, and tablets.  This setting allows you to charge your devices quickly. And for safe charging, it has several safety features such as overvoltage and overheating protection. This ensures the battery life of your device is improved. Coming with the IQ 3.0 technology, it charges faster compared to other conventional chargers.
This type is like no other as it is compatible with numerous voltage settings of different countries. So whether you are in the United States or Sweden, this charger got you covered. Furthermore, it is easy to carry it around thanks to its portability and lightness. You can charge three devices simultaneously as it comes with three USB 3.0 ports. The built-in status LED allows you to tell when it is charging. If you are looking for a convenient option, get yourself this type.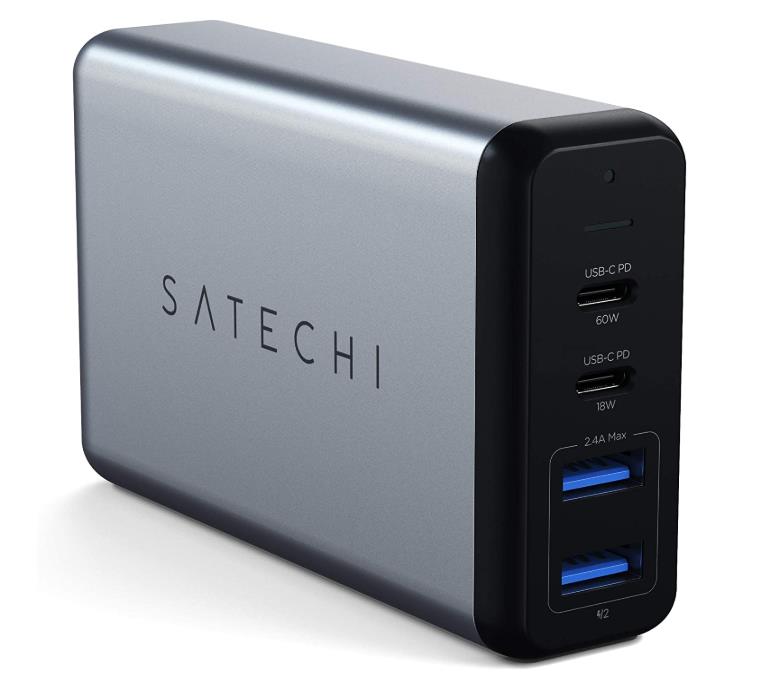 Also from Satechi, the charger comes with four USB ports so you can power up to four devices at a go. The sleek design blends in with your wear looking good on you whenever you carry it around in your hand. And its small size, portability, and lightness ensure you can carry it without added bulk. What's more, it provides up to 75W power allowing you to charge your laptop quickly.
Its exterior comprises of a robust material that can withstand falls and its inner components are resistant to heat. Besides, it has safety features that allow for safe and convenient use. As a universal charger, you can charge just about any USB device.
Final say
Well, as you can see, GaN USB-C PD chargers come with numerous benefits to facilitate our fast life. Not only do they charge devices quickly, but they also come with safety features that are lacking in conventional chargers. So, embrace this new technology and say goodbye to slow charging and battery blow-ups.