After upgrading to the iPad Pro 2020 (4th generation), you need to protect it from damage, scratches, and dirt. One way to go about it is to purchase a magnetic cover. And thanks to the robust magnets, the iPad securely attaches itself to the case. In this article, we will look at seven of the best magnetic covers.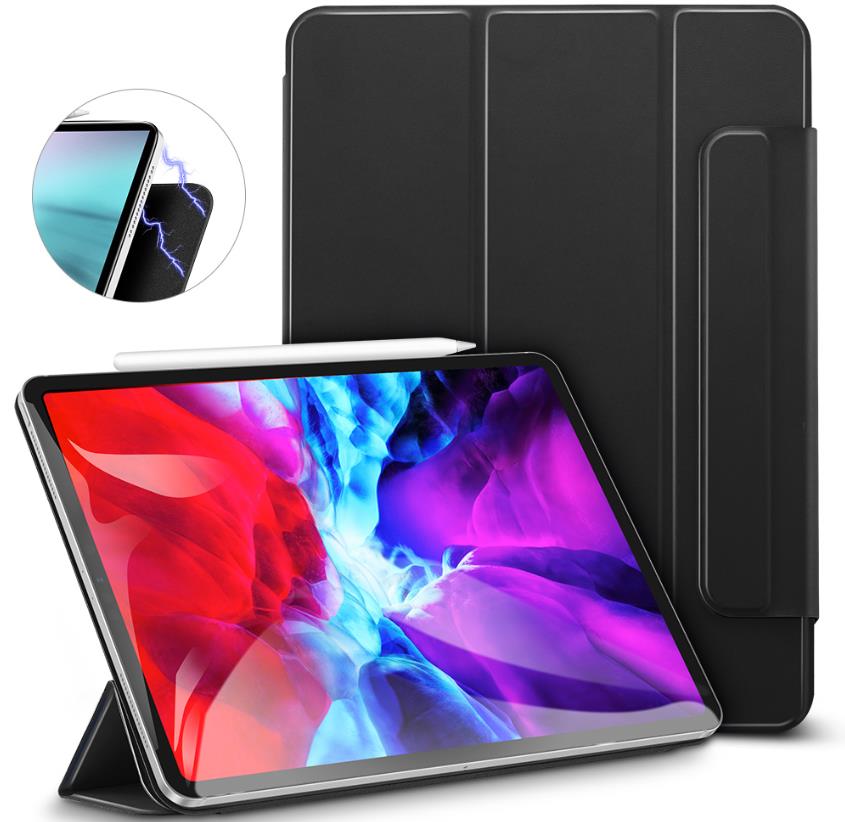 Key features
Apple Pencil compatible.
Magnetic flap
Dual standing orientations
ESR is a company revered for the production of quality smartphone accessories such as cases, screen protectors and more. The Rebound Magnetic Case is one of these products. Explicitly intended for the 12.9-inch iPad Pro 2020, it comes with powerful magnets that not only ensure prompt auto sleep/wake initiation, but also a secure lock between the iPad and the case.

It is Apple Pencil compatible and features magnetic attachment and wireless charging to keep your pencil secure and always ready to serve you. The magnetic flap assumes typing and viewing modes as well as securely covers the pencil. As such you can enjoy movies, drawing, and writing without a hassle.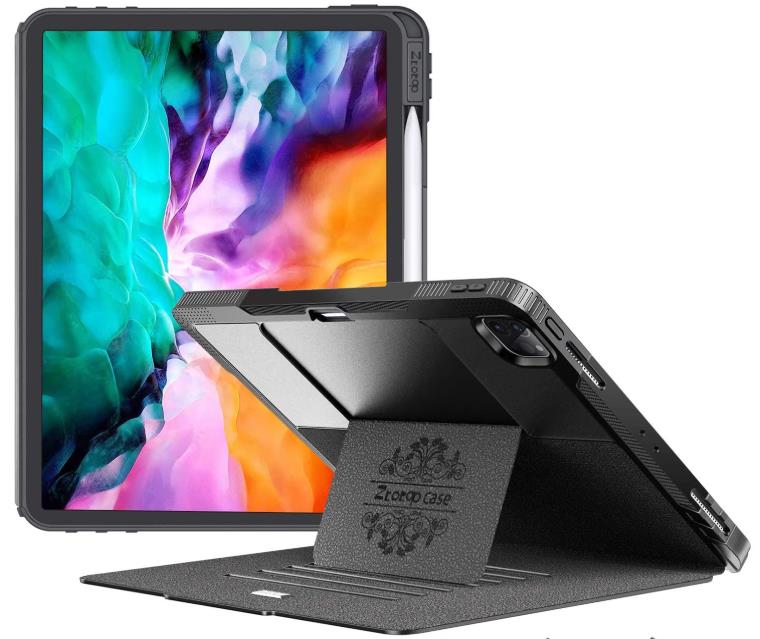 Key features
Robust magnetic attachments.
Six angles.
Tough exterior.
Looking for a trendy magnetic case? Why not purchase the Ztotop case that features robust magnetic attachments. The built-in magnets in the flap allow you to achieve six angles. From watching, viewing, to writing, this case allows you to achieve more. It is not compatible with other iPad Pro models.
The magnet attachments securely hold your iPad so you don't have to worry about losing it. Besides, you'll enjoy the high-response auto sleep and wake feature. It is also compatible with the Apple Pencil and comes with magnetic attachment and a wireless charging feature.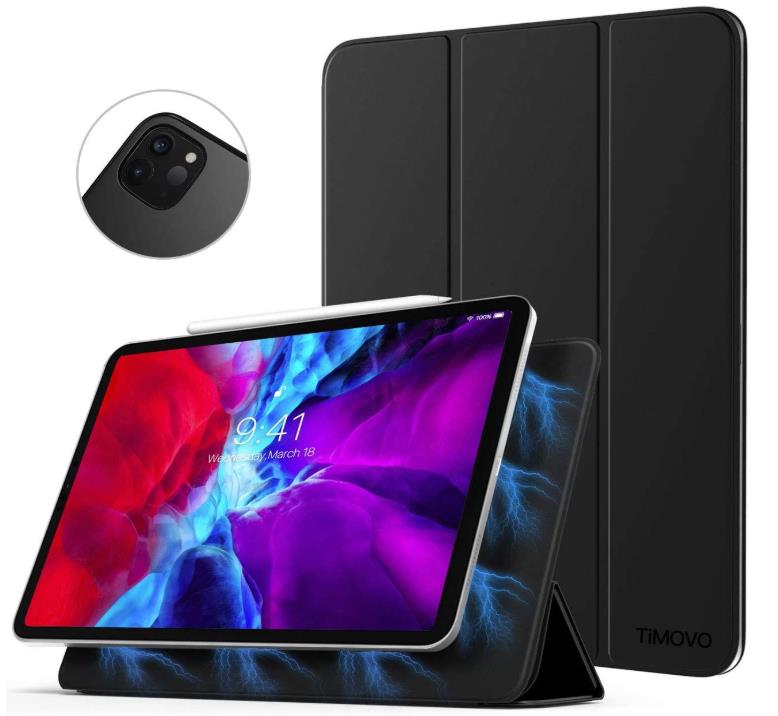 Key features
Magnetic back cover.
Apple pencil compatible.
Wireless charging.
Slim and portable.
This TIMOVO features a robust magnetic back case that securely attaches to the back of your iPad. Explicitly designed for the 4th generation 2020 iPad Pro, it features Apple pencil magnetic attachment holding the pencil securely and a wireless charging feature. With it, you can take notes without the worry of the pencil's battery running low.
It is trendy, slim and lightweight ideal for a corporate or casual look. Made of flexible PU leather exterior, it provides full protection against scratches, drops, and dirt. The raised edges around the camera and the screen ensure your camera and screen are protected. Coming with an auto sleep/wake feature, it significantly improves battery life.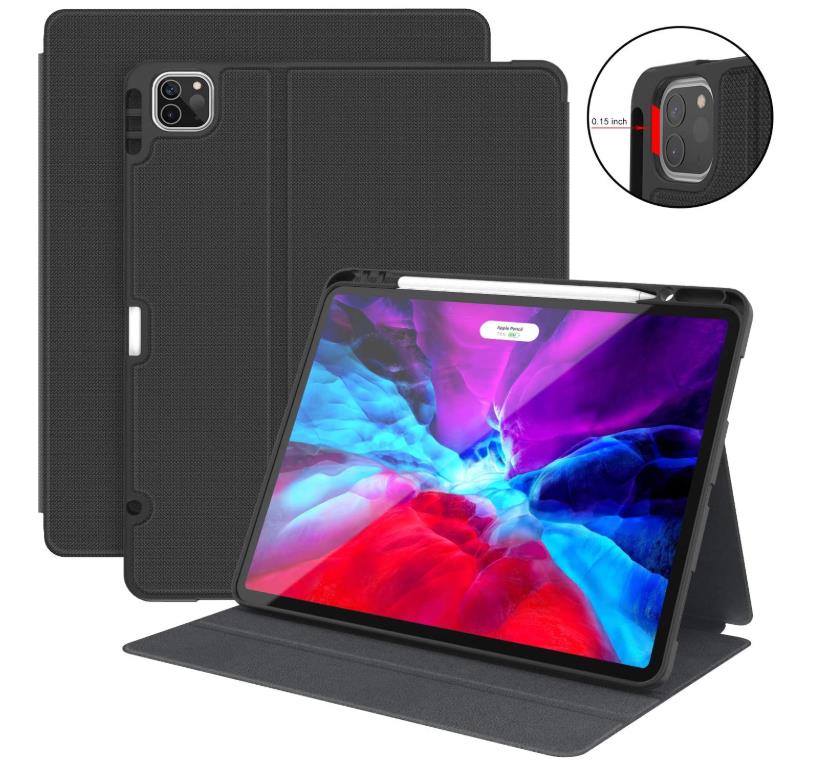 Key features
Precise cutouts.
Honeycomb pattern.
Thick and tough back cover.
Apple pencil compatible.
Compatible with the 12.9 iPad Pro 2020 and 3rd generation iPad Pro 2018, it comes with a honeycomb pattern that allows 80% of heat dissipation. This significantly bolsters the lifespan of the iPad Pro. The magnetic back is thicker than the camera, hence protects the camera from accidental drops.
The magnetic attachment ensures the tablet is securely attached to the iPad and enables swift initiation of the auto sleep/wake feature. As such, you don't have to worry about the battery running low when in idle mode. It is user-friendly, thanks to the precise cutouts at the camera, ports, speaker, and buttons areas.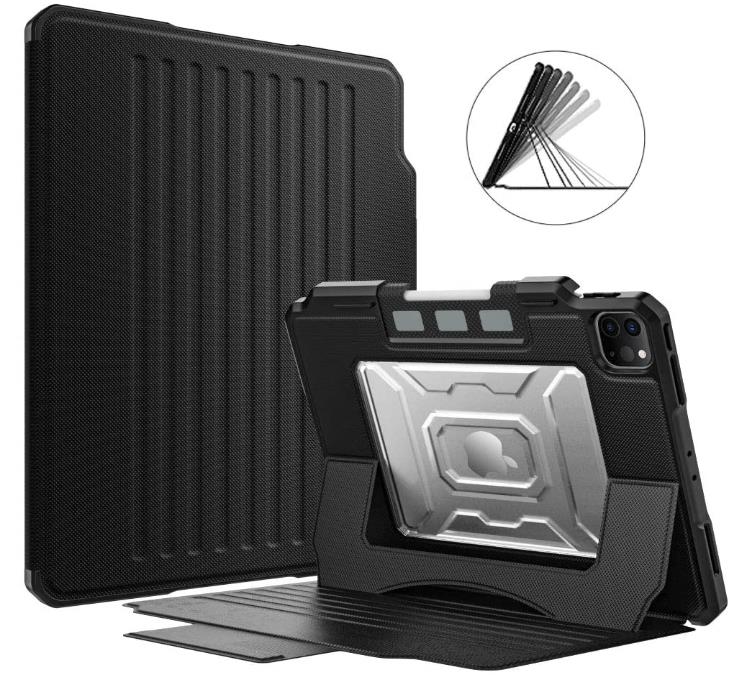 Key features
Magnetic stand.
Seven viewing angles.
Apple Pencil compatible.
Wireless charging.
Looking for a case that allows you to use your iPad Pro eve in the kitchen? Well, this is the right choice for you. It features a powerful magnetic back that not only attaches to the iPad Pro but also securely attaches to your fridge. So, enjoy movies, video calls, etc. as you prepare meals. It is only compatible with the 12.9 inch 2020 version.
Like most iPad Pro cases, it supports Apple Pencil and features a magnetic attachment that securely holds the pencil and a wireless charging feature. Designed to fit your tablet, it offers full protection thanks to the tough back cover and flap. The magnetic stand allows seven viewing angles. As such, you can watch, write, draw, game, etc. conveniently.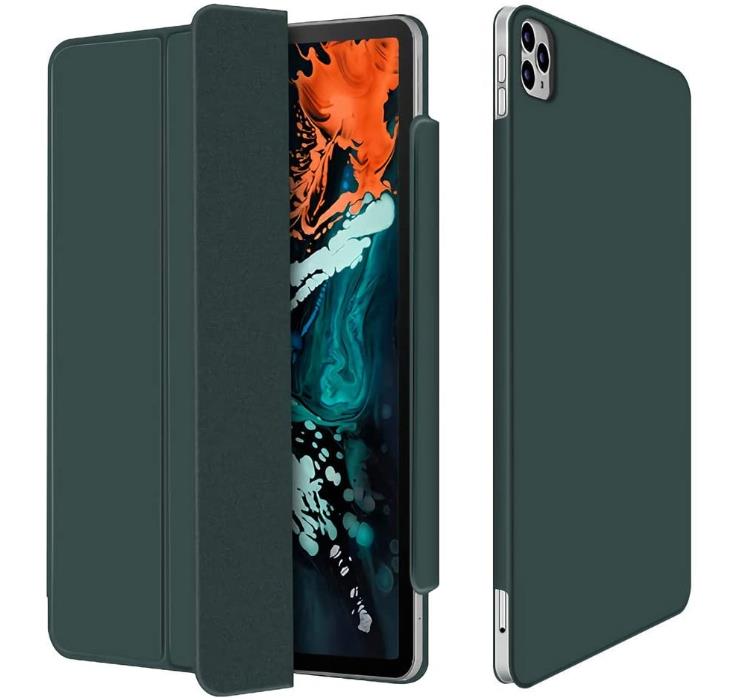 Key features
Comfortable grip.
Magnetic attachments.
Apple pencil compatible.
Numerous viewing angles.
Want a slim yet robust case? Get yourself this Aidashine case and spice up your business acumen. It is lightweight, trendy, and tough allowing you to carry your tablet wherever you go. The magnetic tripod stand enables you to watch and write conveniently. It also comprises of wireless charging and the magnetic attachment for your Apple pencil.
It is only compatible with the iPad Pro 12.9 2020. It fits it precisely allowing you to access the buttons, speaker, camera, and ports owing to the large cutouts. The flap consists of powerful magnets that ensure auto sleep/wake is initiated without a fuss. The soft PU leather exterior not only offers unparalleled protection but also a comfortable grip.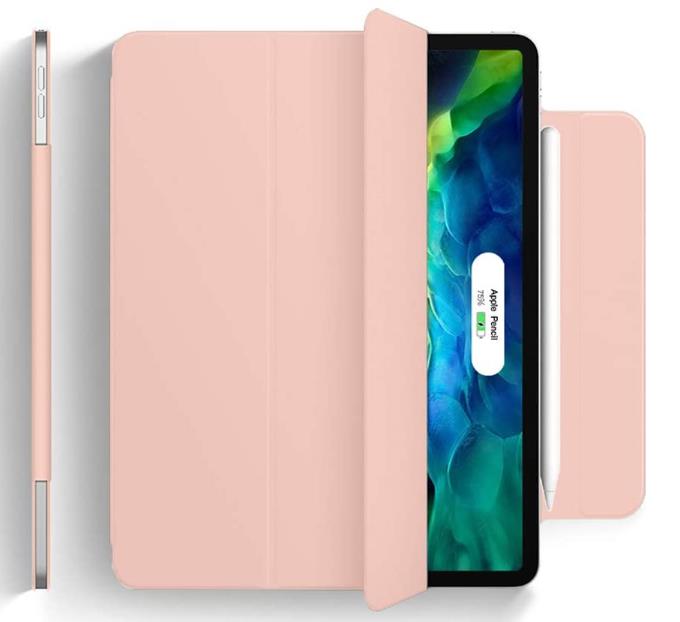 Key features
Apple pencil compatible.
Strong magnets.
Typing and viewing angles.
Finally, we have the ASR-YD case. Coming in black, blue, green, and pink designs, the case is a perfect fit for any gender and occasion. It is compatible with the 2020 iPad Pro release bolstering the tablet's aesthetic look. The trifold front flap assumes the writing and viewing angles for hassle-free use. The smart cover has a back with strong magnets that attach to the back of the iPad.
This ensures your iPad is well protected from scratches and everyday wear and tear. With it, you can enjoy precise auto sleep/wake without a fuss thanks to the magnetic front flap. As such, you are in a position to preserve battery.
Final say
Protect your 12.9 inch iPad Pro 2020 from annoying scratches and everyday inconveniences with either of the above magnetic covers. The best part? Magnetic covers not only provide protection but allow you to attach your tablet on metallic items such as fridges, hence you can use it from anywhere.