The iPhone 12 series consists of four models. The iPhone 12 and iPhone 12 Pro are the standard models, while the iPhone 12 Max and the iPhone 12 Max Pro make up the quartet. The series shows upgrades in power, network, and screen size. The screen sizes range between 5.4 inches and 6.7 inches.
Expected to cost between $540 and $1400, the iPhone 12 series don't come cheap. Being such priced assets, it's necessary to provide protection for your iPhone 12. A range of protective cases is available for the iPhone 12 already. These protective cases provide desired protection from friction scratches, bumps and falls. Protecting your phone ensures that it remains intact and has a good resale value.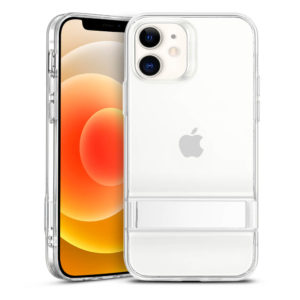 This metal kickstand case is available in two colors, clear and frosted lack, it is compatible with the iPhone 12 and iPhone 12 Pro. Designed as a two-way stand, it eniables viewing in horizontal and vertical positions. With this kickstand case, you don't have to worry durability, lab tests confirmed that the hinge strength is retained up to 80% after about 3,000 uses. Your screen and camera are protected from scratches by the raised bezels, and wireless charging is supported so you don't need to take off protective case.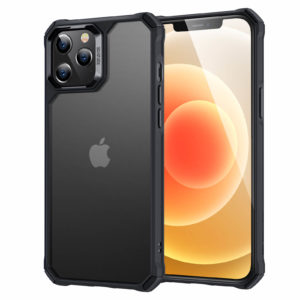 The iPhone 12/12 Pro Air Armor Clear Hard Case is available in 3 colors, clear, frosted black and blue. A military-grade protective case designed with air-guard corners to protect your iPhone 12 and iPhone 12 Pro against drops and impacts. The hard back is scratch resistant, preserving the look of your smartphone. Your phone's screen and camera are protected by the raised bevel and lens frame respectively. The case is thin enough to support wireless charging.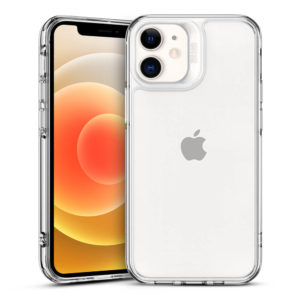 The Echo Tempered-Glass Hard Case is available in 3 colors, clear, frosted black, and blue. The design is a combination of a flexible polymer frame and a scratch-resistant glass back, compatible with the iPhone12/12 Pro 6.1", to protect your smartphone from scratches and impacts. Fitted with shock-absorbing cushioned corners that ensure your smartphone is protected from impact of drops and bumps.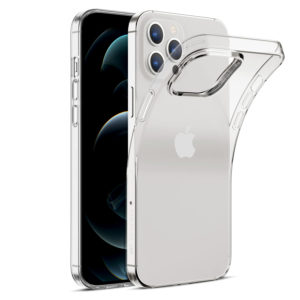 The Project Zero Slim Clear Case is compatible with the iPhone 12 and iPhone Pro 6.1" made of clear yellowing-resistant polymer which enables your smartphone appear in its original look. The 1.1" thickness adds no extra bulk but protects your smartphone from bumps and drops. Screen and camera protection from scratches is ensured by the raised bezels. The presence of microdot on the inner surface of this case prevents clinging with your phones surface.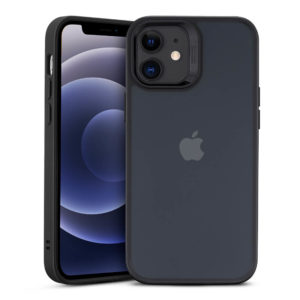 The Classic Hybrid Shock-Absorbing Case conveniently fits the 6.1" iPhone 12 and iPhone 12 Pro, with a thickness of 1.1mm" it is slim and light. The crystal clear back maintains the original appearance of your smartphone, the other colors – frosted black, black, and navy blue – provide other style options. A combination of shock-absorbing corners, flexible frame, and raised bezels provide ample protection for the screen and camera. This case does not come with a screen protector but can be removed and fitted back easily.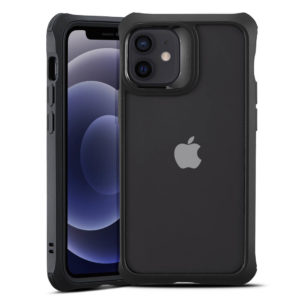 The Alliance Tough Full-Body Case is available in 3 colors – clear, black, and blue – and provides full-body protection, as the name implies. The tough backplate, bendable bumper combines with the tempered-glass screen protector to ensure your smartphone is completely protected. Scratches are prevented by the raised bezel around the boundary of the camera and screen. The tempered-glass is scratch resistant and the corners of the case are reinforced to absorb shocks and limit damages when your smartphone falls accidentally.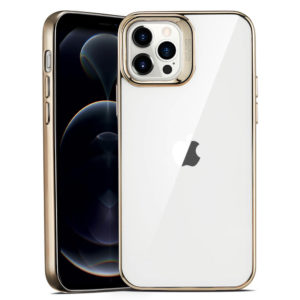 The Halo Clear Case, designed for the iPhone 12 and iPhone 12 Pro, fits the 6.1" inch frame of your smartphone. The lightweight polymer used in producing this case gives it flexibility and toughness. The case can be removed and replaced easily. The raised bezel around the camera and boundary of the frame ensures protection of the screen and camera from scratches. Presence of microdots at the inner part of the case prevents clinging and ensures your smartphone is water-mark free. The crustal-clear back allows your smartphone to be seen in its original color, while the colored frame adds some style. The Halo Clear Case is available in 4 different colors – gold, black, navy blue, and silver.
There's no guaranty that smartphones can be used without incidents that can lead to damage. These days, smartphones, including the iPhone 12 and iPhone 12 Pro, have fragile parts that need to be protected. Protective cases are a basic requirement needed to limit damages caused by drops and impacts.
Conclusion
The range of protective cases recommended in this article are designed specifically for the iPhone 12 and iPhone 12 Pro. Designed with raised bezels around the camera frame and screen frame to provide the needed protection against impacts and drops, these protective cases are a must-have accessory. The non-slip frames provide a firm grip for your iPhone, making it less likely to fall of your hands. The tempered-glass screens are scratch-resistant, therefore saving your iPhone from the most common destroyer of smartphone screens.
The 7 best protective cases for your iPhone 12 and iPhone 12 Pro have been discussed here to give you an insight to make informed decisions when choosing a protective case for your iPhone. Give your iPhone that long-lasting protection and optimize your user experience with your iPhone.