Due to the COVID-19 pandemic, Google release this long-awaited phone Pixel 4a on August 3. Like any other smartphone, it is susceptible to damage in case of impact or quick drops. This is where a phone cover comes in. whether you want a clear, colored, or military-grade cover, we highlight six of the best that covers for the Google Pixel 4a that you can buy now! Let's see how they stack up!
Best Case Covers for Google Pixel 4a in 2020
Prefer a case that will let watch, chat, or browse hands-free? Well, this ESR cover is the perfect fit for you. Coming with a metallic kickstand, you can use your phone in a landscape or portrait orientation up to 60 degrees. The soft polymer exterior not only provides optimum protection but also feels grippy in your hand. This mitigates accidental drops as you commute, walk, or run.
What's more? It comes with a tempered glass screen protector that can withstand enormous force. With it, you are assured of 360-degree protection. Both the case and the screen protector comprise anti-fingerprint properties that ensure your phone stays neat. Besides, they are easy to clean in case of dirt buildup. With precise cutouts, you'll enjoy listening to music, taking photos, and more.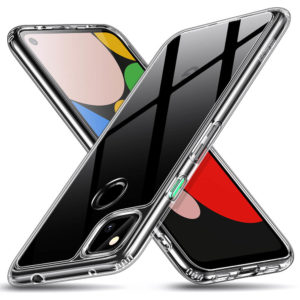 This Mimic case is a perfect fit for those who want to show off the lovely design of the Google Pixel 4a. And the tempered-glass material does not succumb to scratches whether by your keys or a rugged surface. The soft TPU exterior affords you an ergonomic grip so you can comfortably use your phone. The air cushion corners absorb shock in case of quick drops.
The large cutouts give room for using ports, fingerprint, the camera, and more. The raised bezels ensure that the camera and screen do not get damaged when placed on a flat surface. It comes with accessible and easy to press tactile buttons for everyday phone use. Its flexible design fits precisely with the phone's dimension.
If you prefer a bit more protection, an armor case is what you need. This case comes with a flexible shell that features a tough back and air-guard corners providing full protection. While tough in construction, it does not sacrifice clarity since it is ultra-clear showing off the sleek make of the phone. And it does not succumb to yellowing keeping your phone looking neat for long.
It is coupled with a tempered glass screen protector that offers much-needed protection. It withstands immense pressure, is scratch-resistant, and 99.9% clear. You'll enjoy hassle-free installation thanks to the easy to use installation kit that allows for bubble-free installation. As always, it comes with tactile buttons, precise cutouts, and raised bezels around the camera and screen.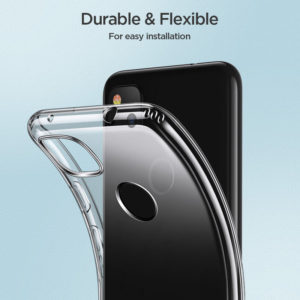 Want a slim and flexible case? Get yourself this Zero slim clear cover. With a thickness of 1mm, the cover feels light on your phone exposing the sleek edges of the Google Pixel 4a. Its clearness bolsters the overall look of the phone while allowing you to show off all its features. Slipping your phone is hassle-free owing to its flexible property. This property also mitigates breakage when you stretch it.
The soft plastic feels comfortable in your hands affording you an ergonomic grip for everyday use. Thanks to the air-cushion corners, your phone is well-protected from impacts and shock. Like any other premium cover, it features raised bezels that protect the screen and camera from damage. The micro-dot pattern mitigates the formation of water spots keeping the phone neat.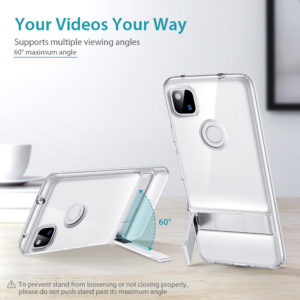 This is yet another case that comes with a rotatable kickstand allowing for both vertical and horizontal hands-free viewing, chatting, and web browsing. It opens and closes easily without getting loose thanks to the strong magnets. The air-guard corners absorb shock from drops while the soft TPU exterior withstands impacts and weather elements keeping your phone functioning for long.
Thanks to the tactile buttons, you can go about adjusting volume, switching on/off, and more hassle-free. And the large precise cutouts have zero impact on the camera, ports, the speaker, and other commonly used components. With the raised bezels, the camera and screen will remain functional even when placed face down.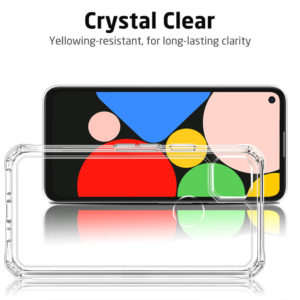 Finally, we have this military-grade case that features a minimalistic construction. The air-cushion corners absorb shock from drops and impacts while the soft edges offer a comfortable ergonomic grip. Thanks to the anti-slip feature of the case, accidental slips are a thing of the past. The hard plastic back withstands string impacts ensuring your phone stays functioning for long.
Besides, it is scratch and yellowing resistance. As such you can use it for extended periods without purchasing another one. And thanks to its transparent design, you can flaunt the Google Pixel 4a make any time. The flexible frame fits precisely to the size of the phone without much hassle. The camera and screen will remain untouched when placed on a flat surface, thanks to the raised bezels.
These are some of the best covers that you can purchase today for your Google Pixel 4a. That said, let's see why you need a phone cover.
Why you need a phone cover
To allow easy cleaning in case of dirt or dust build-up. Phone cases are equipped with an oily surface that allows you to clean them with just one wipe.
To add an aesthetic touch to your phone. A case significantly bolsters the look and feel of your phone thanks to its colorfulness, sleek design, or added features such as a wallet or kickstand.
To prevent accidental phone slips. It is common for your phone to slip off your hand especially when commuting or walking. With a phone cover, this is mitigated thanks to the anti-slip feature.
To protect the phone from potential damage during impacts. The case absorbs shock from drops that would otherwise cause damage to your phone.
Wrap up!
As we await the new Google Pixel 4a, it is high time you purchase a case that will play a role in improving the longevity of the phone. Premium, easy to install, and coming in a pocket-friendly price, you get any of the above cases from ESR.